Consciously Designed
& Sustainably Built.
They're like other burgers,
JUST BETTER!
Our burgers are a no-fuss Kiwi twist on an American classic with a pretty' famous signature sauce.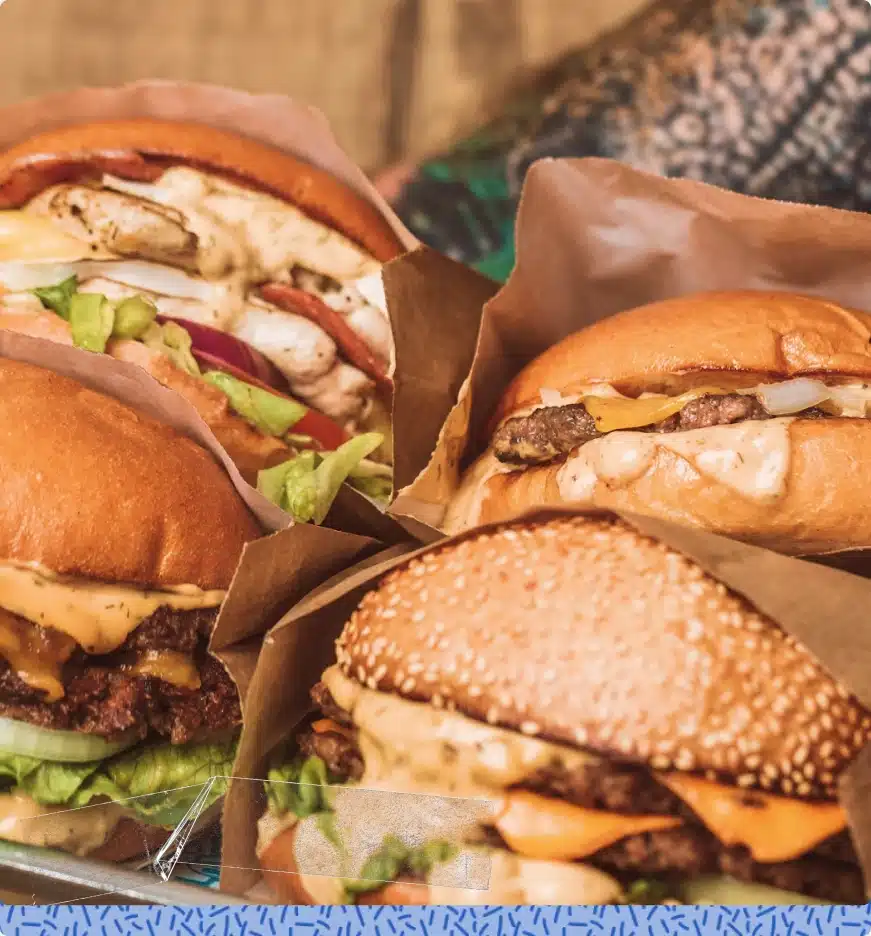 Jo Bro's champions quality and consistency at every turn. We prioritize sourcing our high-grade produce from like minded local businesses, including potato buns baked daily, fresh beefsteak tomatoes and prime NZ wagyu beef. 
Our culinary mastery, honed in professional restaurant kitchens across the globe, works its magic on simple ingredients. The result? Bold flavours and consciously crafted burgers that are truly worth the trip out west for!
#NOTGOURMET
Events are better when the food's on point! We cater everything from weddings to office brekky shouts, from wagyu to vegan. Check out our menus and book us for your next event or function.
QT Rooftop - Pop Up
---
QT Hotel, 4 Viaduct Harbour Avenue
Sunday, November 12th
Josh Barlow and Brody Jenkins met working in the kitchen of one of New Zealand's top fine dining restaurants: The Grove, in Saint Patricks Square, Auckland City.
Josh, who gained kitchen experience in London's Michelin-star restaurants, returned after seven years. Brody, having spent eight years at SKYCITY and helping launch Andy's Burgers & Bar, returned from a trip to the US with an ambitious idea: starting a burger food truck. A year later, over drinks, Brody shared the idea with Josh, who enthusiastically agreed. Together, they turned their Jo Bro's concept into a successful venture, serving numerous burgers across Auckland and even opening restaurants.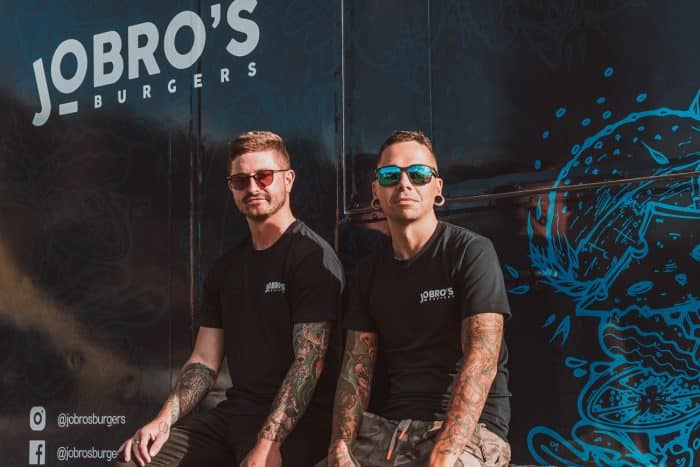 Sustainability

At Jo Bro's, we believe the negative stigma around fast food can change! The big corporate chains have ruined the simple burger and it's reputation, we're taking it upon ourselves to make positive change from the grass roots level. Proving it can be done better.

We share a profound care for our environment and are making a conscious effort to minimise the footprint we leave behind every day. To uphold our sustainability commitments, we:

Use 100% compostable packaging.
Implement rigorous waste management procedures to divert all food waste from landfill.
Solely source beef from NZ farms with accreditation for animal welfare and their on going sustainability efforts.
Supply consciously produced uniforms made from organic textiles for our staff.
Recycle all of our used cooking oil into biodiesel.

With a third of global food production ending up as waste each year, we are determined to play our part. Jo Bro's aims to tread as lightly as possible on our planet. 
Mental Health

The hospitality industry is notorious for long hours, low remuneration, a poor work-life balance, and even bullying. We're driven to shift this narrative with Jo Bro's, kickstarting change from within the kitchen and throughout our business to promote mental health awareness in New Zealand.

At Jo Bro's, we're working hard to ensure that our workspace is healthy, engaging, and supportive. We provide a living wage, offer opportunities for up-skilling and actively foster our staff's mental well-being. Additionally, we support For All The Brothers, a non-profit dedicated to boosting mental health amongst Kiwi men.
Real Food

Nothing but REAL FOOD get's served at Jo Bro's. We avoid all of the unnecessary nasty stuff like preservatives and artificially modified ingredients. So our buns are natural, with a 3 day, not 3 week shelf life. We make our signature burger sauce, Jo Bro's Original™ from scratch in house with real free range eggs and our patties contain nothing but prime NZ beef – crazy huh?

It's time to enjoy fast food like we used to, without the guilt! Taking it back to basics, real food, cooked by real chefs.
instagram plugin goes here
Subscribe to keep up with Jo Bro's news, events, openings, opportunities and announcements.